The Growth of Health Impact Assessments
Following Bidwells' spring update of the Local Plan Watch, associate and socio-economics expert, Juliet Clark, takes a closer look at how local authorities are approaching health impact assessments (HIA).
08 Jun 2021
2 MINUTE READ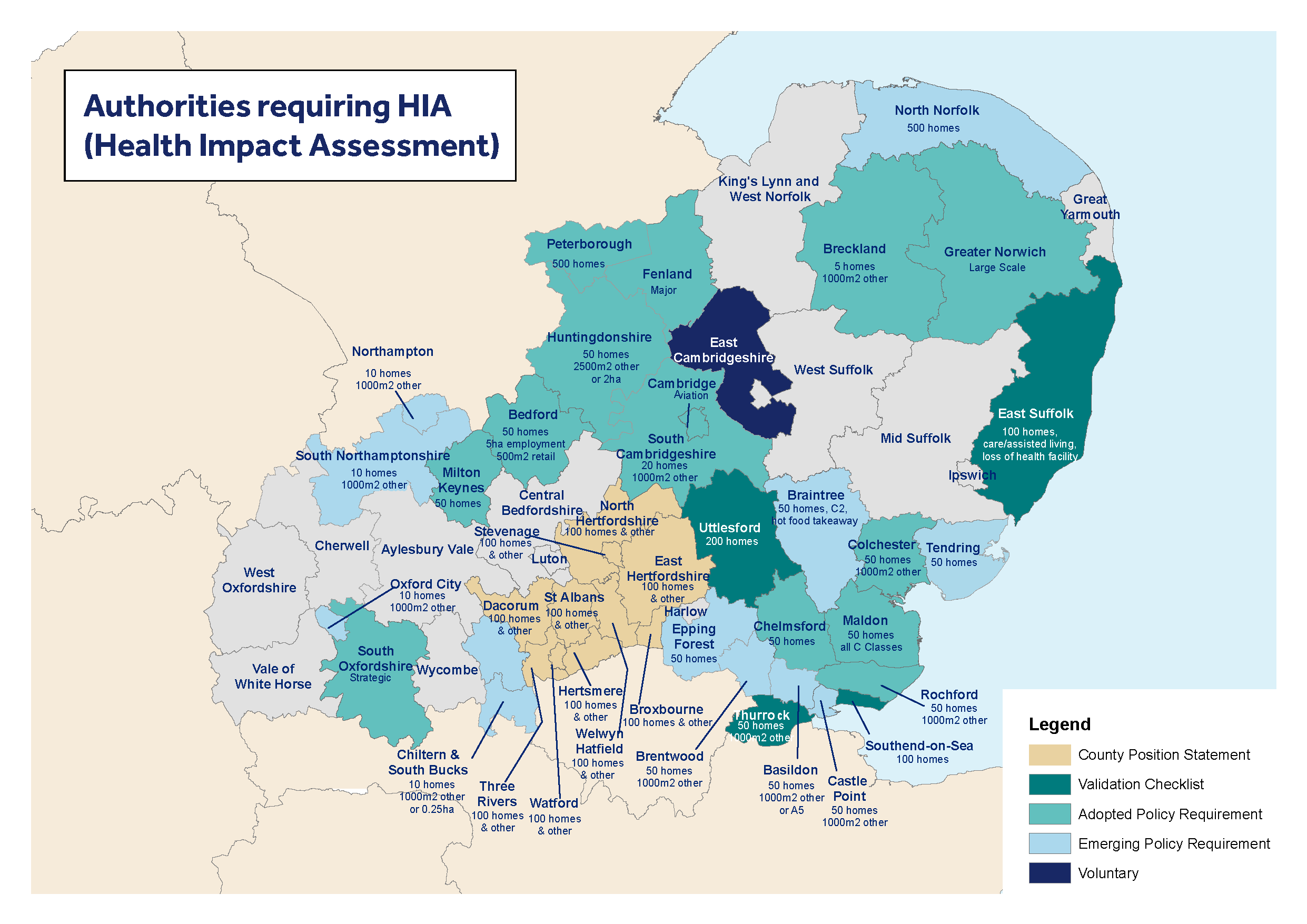 Health impact assessments look at development proposals and assess their impacts on local health, particularly to those groups whose health is most vulnerable. The results from the assessment will then inform master planning, design, access and planning statements, to improve health and inclusivity and reduce health inequalities.
Over the last two years, awareness of the environment around us has heightened. We are recognising the need for open spaces, opportunities for social interaction, healthy buildings and active travel access to jobs, to name but a few health pathways. Developers are increasingly expected to demonstrate how their schemes contribute to healthy living and reduce inequalities. Whilst it would be charming to think that the development industry had become more philanthropical, this social objective is a result of a growing number of local planning authorities requiring applications to be accompanied by a HIA.
Our research shows that in the golden triangle two-thirds of those local authorities require a HIA to be submitted with a planning application. There are three mechanisms through which HIA are required:
Local plan policy – This is the most common
A planning application verification requirement
Through a county position statement – East Cambridgeshire is the only authority that relies on voluntary HIA submission.
There is a pick'n'mix feel about the scale and type of development to which HIA policy applies. Housing is a common denominator, although the scale of the scheme to which HIA applies ranges from 10 to 500 homes. Only one in four authorities assess the impact of commercial or other types of development, most commonly imposing a 1000m2 threshold. Carehomes, retail and hot food takeaways get an occasional shout out for consideration.
Geographically there is a concentration of policies along the A1 and M1 corridors, and in the east, and a requirement in all authorities in Cambridgeshire, Essex and Hertfordshire. Occasionally, policies are specific to a scheme (e.g. Ipswich Garden Suburb) but for the most part apply to the whole authority. Surprisingly policies bear little relation to deprivation or poverty, both of which are key determinants of health.
It is interesting to note a distinct lack of HIA requirements in many authorities within the Oxford to Cambridge Arc and a wide variety in HIA thresholds among those authorities with policies. Such disparity in the strategic planning of health will need to be addressed if inequalities are not built into the regeneration and development in this corridor.

For some, HIA remains a matter of policy compliance. Consultants are engaged with at the last minute, with no opportunity for schemes to be altered and take account of the assessment's findings. For others, the commitment to creating places which work better for people, particularly those who are vulnerable - and there are many of us - brings hope that our urban landscape will be one in which we can flourish.
Get in touch with our team