Royal Highland Show - breakfast briefing
In partnership with Shepherd and Wedderburn, we are bringing together rural leaders to share their unique perspectives on key issues, opportunities and challenges facing the rural sector in Scotland.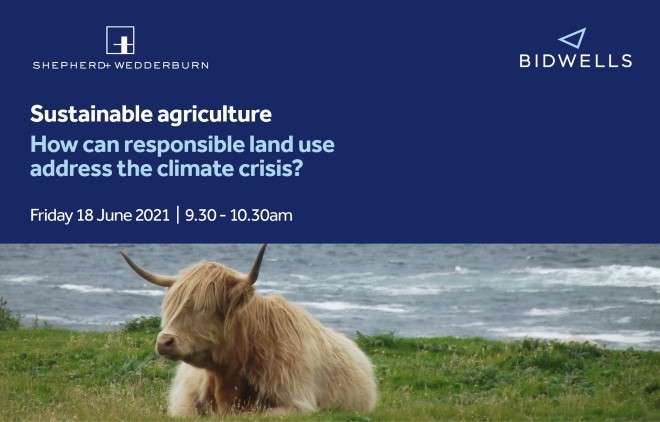 We are delighted that a recording of this event will be featured in the on-demand programme of the Royal Highland Showcase, allowing you to catch up at a later date if you are unable to attend the live session.
This year's panel discussion will focus on sustainability in Scottish agriculture and the green recovery, discussing the impact of climate change on future land use in Scotland including:
The current impact of climate change on Scottish agriculture and how will the sector respond;


Sustainable agriculture in Scotland against a changing international trade backdrop;


How net zero ambitions can be achieved in farming and how will this be funded?;



Restoring the biodiversity balance in modern agricultural environment;


What Government can do to help.


Sustainable agriculture: how can responsible land use address the climate crisis?

will be chaired by Hamish Lean, Partner and Head of Rural Property at Shepherd and Wedderburn. Hamish will be joined by an expert panel: Andy Turnbull, Partner and Head of Natural Capital & Sustainable Investment at Bidwells; Sarah-Jane Laing, Director and Chief Executive at Scottish Land & Estates; and Andrew Connon, Vice President of NFU Scotland.
---
Missed it? Don't worry, you can listen back now...
Get in touch with our expert